In Bermuda Broadcasting Company's effort to encourage healthy living through media in 2005 we wish to introduce 'The Power (95) Potential Plan'. Giving 'You the Power to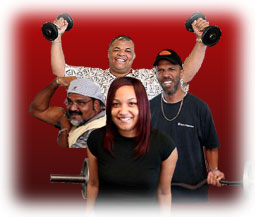 fulfill your Potential!'
Imagine the drama there will be when you take the Power 95 Crew; 'The Captain' Keevil Burgess, Don Bassett, Radigun & 'Power Girl' Patrina Paynter, 12 locals making that New Years resolution again, 2 Nutritionist, 2 Trainers, 1 Gym, and The Big Radio Station?
'The Power Potential Plan', radio unlike anything ever broadcast in Bermuda before. Follow the Power 95 Crew and The Power Potential Players in their successes and struggles with losing weight as they give themselves and the listening public The Power in 2005!


Concept
The Power Potential Plan' is a compelling new 12 week (Jan.-March), weight-loss radio drama in which the Power 95 Crew, "The Captain" Keevil Burgess, Don Bassett, Power Girl & Radigun, partner with The Sea View Gym to help 12 overweight Bermudian contestants transform their bodies, health and ultimately, their lives.

The contestants will be divided into two teams of 6. The teams will follow a comprehensive meal plan provided by a Government Dietician. Once weekly (Monday nights), the Power 95 Crew and contestants will exercise with Certified Trainer Brenda Gitchner at the Sea View Gym. All contestants will be weighed in each Tuesday evening with one contestant voted out of the program. The ousted contestant will be featured on Power 95 the following morning with Keevil Burgess along with a dietetic or healthcare professional. Wednesday- Friday evenings, 45 min. walks will be held starting at the Bermuda Broadcasting Company Parking lot, ending with some of the contestants on air with Wayne L. describing their journey thus far. The contestant who pursues to the end of the 12 week programme will receive numerous prizes; to be determined.
'The Power Potential Plan' includes the announcers placing surprise on air phone calls to the contestants at random times of the day. These calls are to encourage the contestants to stick to the program and even catch them out, eating those bad food items. The listening public will be encouraged to call in and give their opinions, spot the cheater, different weight loss diets they've tried and even personal testimonials.
The Big Station…Power 95 giving you the power in 2005!